As the price of gasoline continues to plunge over the past six months, it has drastically changed consumer behavior. With the extra cash after filling up their tanks, consumers may be more open to upgrade their car audio system.
According to the AAA (American Automobile Association), the national average price of gasoline has been $2.13 a gallon for a record 109 days in a row. Six months ago, it was $3.63 a gallon. The Chevy Tahoe will cost $39 less to fill up than it did in July. These lower gas prices helped push sales of Ford F-series trucks to seven-year highs in 2014.
Here are some examples:
Chevy Tahoe
Fuel Tank: 26 gallons
Fill-up cost 6 months ago: $94.38
Fill-up cost now: $55.38
Savings: $39.00
Ford F-150
Fuel Tank: 23 gallons
Fill-up cost 6 months ago: $83.49
Fill-up cost now: $48.99
Savings: $34.50
Falling prices have increased demand for SUVs and trucks. According to the National Auto Dealers Association, in the last three months of 2014, sales of light trucks and SUVs rose 10.9% nationwide compared to the previous quarter. Kelly Blue Book reports that new car sales will total 16.9 million vehicles in 2015, a 2.6% increase and the highest total in a decade. Cheaper gas and an improving economy were big factors in the increase in truck sales. Meanwhile, the demand for hybrid and alternative-fuel vehicles shrank.
Now that consumers have some extra cash, it's the prime time to share Alpine Restyle with them!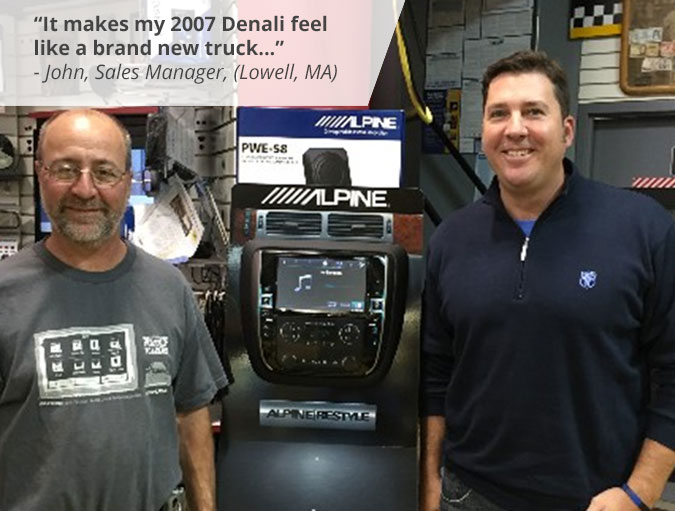 John, a sales manager out of Lowell, MA, loves his Superbowl-bound New England Patriots. If he's not visiting his son at college or rocking out with his family in their 2014 Audi A6, he's at the game with his 2007 GMC Yukon Denali. As a new vehicle purchase, the Yukon was seriously lacking in interior accessories, so John decided to restyle his dash. John Car-Risma knew the exact recommendation to improve the Yukon. The X009-GM was the perfect upgrade to an already stunning vehicle. With its full set of features and the addition of a rear view camera to use on the oversize screen, navigating through Gillette Stadium is now a breeze. John, we hope the addition of the X009-GM ranks right up there with the excitement of the Patriots going to the Super Bowl!


We'd love to get your feedback on Alpine Restyle Today! Please take this short questionnaire.

Alpine Restyle Today is your source for news about In-Dash Alpine Restyle Systems and useful information to help you reach the Truck and SUV customer. We are your partner and want to hear your input. Please contact AlpineRestyleToday@alpine-usa.com with comments, or topics you would like to see in the future and look out for our next issue soon!